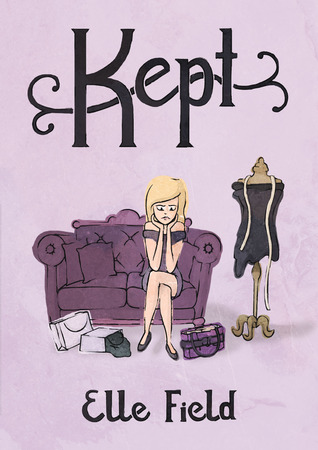 "Did she really just say that? I am fifteen again, except the reality is I am experiencing full parental horror, aged twenty-five. I want to die."
Life hasn't quite worked out how Arielle Lockley imagined it would. Becoming the next Coco Chanel was always her childhood dream, but she's spent the past four years living a dizzying whirl of glitzy parties, luxurious holidays and daily shopping sprees - all paid for by boyfriend Piers - and not doing anything to make her Coco dreams happen.
When the recession hits, it's not just the economy that takes a tumble and Arielle finds herself living back with her parents, on bad terms with Piers, and having a CV that's as welcome as a pair of knock-off Jimmy Choos. And maybe it's the location, but she's also finding unwelcome thoughts of her childhood sweetheart are popping into her head...
What's a girl to do? Can Arielle figure out what it is she now wants to do with her life and move on, or will she be doomed to spend the rest of her life dwelling over her worst mistakes, stuck listening to her parents' embarrassing dinner table talk each night?
I wasn't sure how I was going to get on with Arielle the main character in this book as she begins the story with her fare dodging on the train, and not just a short hop, London to Hampshire. I decided to give her the benefit of the doubt and I'm glad I did, as Arielle loves fashion. She loves styling people and she name drops so many fashion icons that I was drawn into the book so quickly.
At first I thought she was like Becky in the Shopaholic series - but I couldn't have been more wrong!
However, then Arielle began to exhaust me with her "what if" thoughts. She was down the path through the gate and over the road and down to the river, before any other character had time to draw breath. So – like a few people can behave in real life.
The book skips back and forth through the present day and the past. A couple of times it led on as if it was still the present, but it dawned on me that we had receded into the past after a page or so due to the references made. Clever, but it threw me out a couple of times.
The storyline never stood still – in fact it was a little bit like one of those action films where you think everyone is going to be safe, then another bombshell lands and shakes it all up again. I liked the unpredictability of it – it kept me interested and made me realise this was not going to be an ordinary girl meets boy chick lit novel.
So many classic lines that Arielle utters, but to quote and explain would just spoil the plot – so read it and find out for yourself. I doubt you've ever met a character quite like Arielle. There's a second book called Lost which is just out – and despite being a little exasperated by Arielle, I would like to know what happens next……….
My thanks to the author for supplying me with a copy of this book to review, and as promised, I read it all before I wrote my review ;) Great cover BTW.